Social media channels to follow
| | | | | | |
| --- | --- | --- | --- | --- | --- |
| | | | Pinterest link Carpenter and sons | | You-tube-link-Carpenter-and-sons |
"Jim Jarmusch once told me Fast, Cheap, and Good… pick two. If it's fast and cheap it won't be good. If it's cheap and good, it won't be fast. If it's fast and good, it won't be cheap. Fast, cheap and good …
pick two words to live by. Tom Waits.
A message from Deon Malherbe
"I am dedicated to inspire, interpret and to dream with you. As a qualified engineer, who started earning an income from my hobby, I love to design solid wood furniture and enjoy embarking on a journey with each client individually. Designing high-quality, sumptuous and aesthetically pleasing furniture, brings me pleasure. The understated qualities of design and materials, bring an unmistakable air of sophistication, a sense of style and a feeling of personal identity, to your home.
With this in mind, all my timber is hand-selected for grade and quality, to excite the heart and ensure the beauty, functionality and longevity of my products. I put a great deal of thought into the design of all my furniture. I delight in beautiful, creative, sometimes challenging ergonomic designs."
My design process is not a mere computer simulation, using existing templates, pre-programmed designs and standard forms.We create hand-built masterpieces of astounding and enduring beauty. I have been creating furniture with strong visual impact that displays individuality and charm for over 30 years and intend to do so for another 30 years to come.
the aesthetic, the quality, has to be carried all the way through
Deon Malherbe
Whether you prefer a contemporary, modern or modern classical style, we are able to create the style you prefer.
Fancy a study or home office with a secret compartment?
Click on the 'secret doors' button for secret doors or other hidden spaces.
For buttons go to TOP and BOTTOM of each page.
"Your home should be a story of who you are, and be a collection of what you love." - Nate Berkus (Interior Designer)
Just a few of the things we do...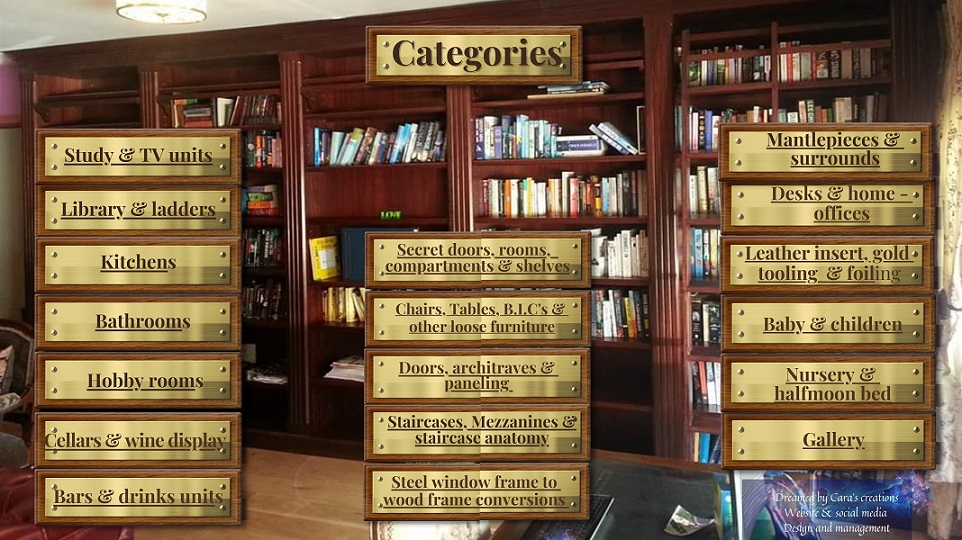 Studies libraries bathrooms, secret door secret room bathroom furniture desk partner's desk mantlepieces Baby-room Kitchen-refurbishing
#bushtubchair A wooden chair handmade with solid Kiaat #customfurniture #Carpenterandsons #handmadefurniture #modernfurniture #carpentergauteng #dressers #sidetables #spaghettilegtables #solidwoodfurnitureWhat makes us different is that we are obsessive about things made by hand. Of course we prize good design, and skilled craftsmanship, and beautiful materials, but we create the feeling you get when you walk up to piece of furniture that somebody made especially for you and no other person has the same piece!


What a joy!

the quality that comes from creating with passion, care, and attention to detail.

You can see that it's handmade, and you can feel the difference.
OUR PROCESS : HOW TO ORDER CUSTOM FURNITURE
How does it work?
Our in-house design team to take the time to consult with you in the room you wish to transform.
We work with you to capture your vision - by careful planning, we aim make optimum use of the space available & bring an aesthetically pleasing & ergonomically efficient living space that will bring you many hours of pleasure. Creating a home where you can live. We do not use a software program but the years of experience of our master craftsman - Deon Malherbe
"Craftsmanship requires a fusion of skills, knowledge, understanding, and imagination, perfected by experience." - Glenn Bowman (Owner @ Vermont Soapstone)
We are obsessive about human beings making things by hand.
"We don't value craftsmanship anymore! All we value is ruthless efficiency, and I say we deny our own humanity that way! Without appreciation for grace and beauty, there's no pleasure in creating things and no pleasure in having them! Our lives are made drearier, rather than richer! How can a person take pride in his work when skill and care are considered luxuries! We're not machines! We have a human need for craftsmanship!"
― Bill Watterson, There's treasure Everywhere.
The first consultation is free.